Friday, October 26, 2012
The amazing Kris Carr talks chemo, cancer, cooking and SURVIVING stupid cancer!
Kris' website
http://kriscarr.com/
Posted by

om
at 12:30 AM
No comments:
Links to this post


Monday, October 1, 2012
Om Peach Butter…no added sugar……awesome mixed into Om multigrain hot cereal, with toast or just as a spoonful of bliss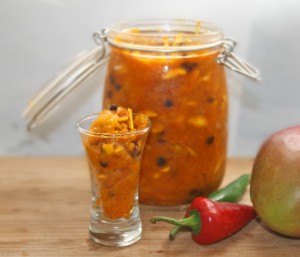 Saffron- Mango Chutney…..(pictured)…mango, lime, coconut sugar, currants, almonds, chilies, saffron and turmeric
Om Cran-Raspberry sauce.………..lightly sweetened with coconut sugar and ultra high in antioxidants
Raw Om Cran-Raspberry sauce………… lightly sweetened with coconut sugar ultra, high in antioxidants
Posted by

om
at 8:46 AM
No comments:
Links to this post


Early Fall 2012 Menu is now available
No assembly required Om made dishes are the ultimate, healthy fast foods. Menu reflects Om's most popular dishes and is seasonal with two or three international cuisines highlighted each month. Plant based meals need only be one or two dishes with one having high plant protein such as beans, peas, nuts or seeds.
Dishes are designed to be mixed and matched.
Most Om cooking is gluten free and Om baked items are available gluten free upon request. Menu is predominately vegan and vegetarian in addition to (R) raw.
Most dishes are available vegetarian (with eggs and dairy) or vegan (animal product free)
Natures super foods and medicine foods are the stars in Om cooking and this is especially true of Om Sauces and Soups where you will find concentrated herb, spice and mushroom dishes.
One Dish Meals
Vegilicous Lasagna: Multigrain pasta layered with marinara, eggplant, zucchini, baby bella and mushrooms, mozzarella, fresh herbs and Om Marinara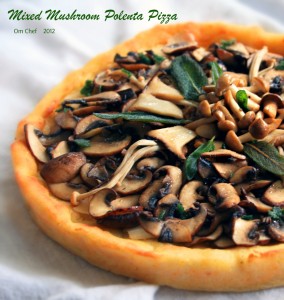 Mushroom Polenta Pizza…….trumpet, shiitake, baby bella, beech and enoiki mushrooms atop an Om Marinara covered , polenta pizza crust (gluten free)
Turtle Bean Chili:…….black turtle beans, fresh tomatoes, onions, peppers and chilies slow cooked with herbs and spices
Om Veggie Burgers:…..3 kinds of beans, quinoa, assorted veggies, fresh herbs and spices..
Chinese Tempeh Lettuce Cups:….minced tempeh, shiitake,
celery, onion in a secret soy based sauce
Curry My Soul: ….(pictured) Madras curried root vegetables,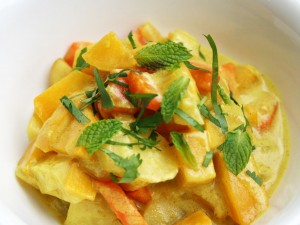 brown basmati and Om made Saffron mango chutney............complete menu is at OmChef.com
Posted by

om
at 8:40 AM
1 comment:
Links to this post